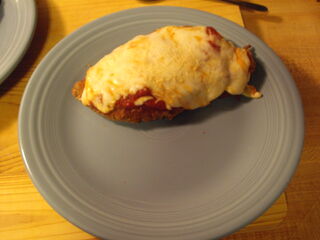 Serves:
4
Preparation Time: 20 minutes
Cook Time: 25 minutes
Description
Chicken parmesan is usually off-limits for those on a diet because of the amount of fat from pan-frying plus the copious amounts of cheese. This version eliminates the pan-frying and opts for baking instead. Substituting full fat mozzarella for reduced fat cuts down on the saturated fat and there's a nutritional boost by using whole grain bread crumbs. Serve with small amounts of cooked pasta, a green salad or any other sides of your choice.
Ingredients
1 1/3 cups whole grain bread crumbs (recommendation: Gia Russa brand)
1 tsp. dried oregano
1/2 tsp. garlic powder
1 tbsp. + 1 tsp. paprika
1/2 tsp. kosher salt, divided
1/2 tsp. freshly ground black pepper, divided
2 egg whites
1/2 cup milk (optional)
1/2 cup flour
4 (6 oz.) boneless, skinless chicken breasts, pounded into 1/2" paillards
1 jar marinara sauce (about 3 1/2 cups worth)
3/4 cup reduced fat mozzarella cheese
2 tbsp. freshly grated Parmesan
Directions
Preheat the oven to 400 degrees.
In a shallow dish, mix the bread crumbs, spices and 1/4 tsp. of the salt and pepper. In another shallow dish, whisk together the egg whites and milk. You can make the milk optional, since you can easily coat the chicken with just the egg whites, but you probably will need more than 2 egg whites, then. In another shallow dish, mix the flour and the remaining 1/4 tsp. salt and pepper.
Dredge the chicken in the flour, shaking off any excess. Dip in the egg and then the bread crumbs, again shaking off any excess.
Place the chicken in a glass baking dish and spray with olive oil cooking spray (or lightly drizzle with regular olive oil). You can also place the chicken on a lightly greased rack set over a baking sheet to encourage even baking - this will prevent a soggy bottom. Bake the chicken for 15 minutes, or until cooked through.
Top the chicken with the marinara sauce and cheeses. Return to the oven and bake for another 10 minutes until the cheese is bubbling. Serve immediately with sides of your choice.
Community content is available under
CC-BY-SA
unless otherwise noted.