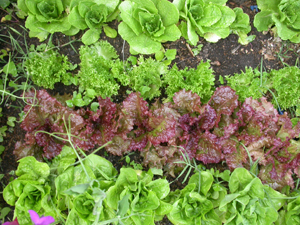 About lettuce
Edit
Lettuce is a temperate annual or biennial plant most often grown as a leaf vegetable. In Western countries, it is typically eaten cold and raw, in salads, hamburgers, tacos, and several other dishes. In some places, including China, lettuce is typically eaten cooked and use of the stem is as important as use of the leaf.
A lettuce plant has a short stem initially (a rosette growth habit), but when it blooms, the stem lengthens and branches, and it produces many flower heads that look like those of dandelions, but smaller. This is called bolting. When grown to eat, lettuce is harvested before it bolts.
This vegetable is widely popular throughout the world and is readily available in supermarkets year round with hundreds of varieties to choose from. Iceberg used to dominate the selections but other varieties are now moving to the forefront. Most domestic varieties are from California and imported lettuce typically arrives from Europe.
The lettuce that we see today, actually started out as a weed around the Mediterranean basin. Served in dishes for more than 4500 years, lettuce has certainly made its mark in history with tomb painting in Egypt and identification of different types of lettuces by various Greek scholars. Christopher Columbus introduced lettuce to the new world and from there, lettuce in the United States began cultivating.
Types of lettuce
Edit
There are four main types of lettuce and under each type there are different varieties.
Butterhead (includes Boston and Bibb)

Loose heads, grassy green leaves, butter texture, mild flavor. Good examples are Boston lettuce, which looks like a blooming rose, and Bibb lettuce that has a small cup-shaped appearance.

Crisphead

The least nutritious of the salad greens, this pale green lettuce takes on the cabbage appearance with its leaves more tightly packed together. An example is the Iceberg lettuce. It's known for the crispy texture and very mild flavor.

Looseleaf

This variety doesn't grow to form lettuce heads, but is instead the leaves are joined at the stem. Good examples of this variety include: oak leaf, red leaf, and green leaf.

Romaine or Cos

This lettuce has gained tremendous popularity in the past decade as the key ingredient in Caesar salads. It has a loaf-like shape with darker outer leaves. It's strong taste and crispy texture has been favored by those who like Iceberg lettuce.
Community content is available under
CC-BY-SA
unless otherwise noted.