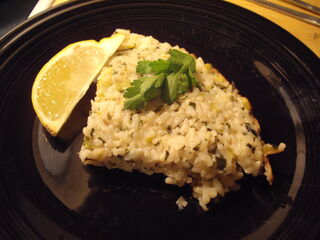 Serves:
4
Preparation Time: 15 minutes
Cook Time: 1 hour
Description
This recipe is not your traditional risotto! There is very little work that goes into this in general. This particular dish is unusual in that it is partially cooked in a pan but finished in the oven. Cheesy, herbaceous and delicious, it makes a filling main course when served with a green salad but makes an excellent accompaniment when meat is the main course. It can be served hot or cold and packs excellently for picnics. Do make sure to use the short grain Arborio rice, as it works the best. If you can't get Arborio rice, carnaroli rice will do in a pinch. Long grain rice will not work in this recipe, so don't even attempt to try it!
Ingredients
1 small leek, washed and thinly sliced
2 1/2 cups fat free, reduced sodium chicken broth
1 cup Arborio rice
2 tbsp. fresh snipped chives
2 tbsp. freshly chopped parsley
3/4 cup reduced fat mozzarella cheese
Finely grated rind of 1 lemon
Kosher salt and freshly ground black pepper
Parsley and lemon wedges, for garnish
Directions
Preheat the oven to 400 degrees.
Lightly oil the bottom and sides of an 8" springform pan.
Cook the leek in a large pan with 3 tbsp. of the chicken broth, stirring over medium heat, to soften. Add the rice and remaining broth.
Bring to a boil. Cover the pan and reduce the heat. Simmer gently, stirring occasionally, for about 20 minutes or until the liquid is absorbed.
Stir in the lemon rind, chives, parsley, cheese and seasonings. Spoon into the springform pan and even the top. Cover with foil and bake for 30 - 35 minutes or until lightly browned. Turn out, slice into wedges and garnish with parsley and lemon wedges. Serve immediately or let cool. A good beverage pairing would be a medium bodied white wine.
Community content is available under
CC-BY-SA
unless otherwise noted.