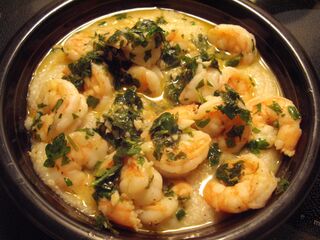 Serves: 4
Preparation Time: 20 minutes
Cook Time: 15 minutes
Description
[
]
Shrimp and grits is a classic Low Country dish. "Low Country" implies the Gulf states, particularly Louisiana. Here is a quick but supremely tasty version of shrimp and grits that is perked up with lemon juice, garlic and the addition of Parmesan cheese to the grits for a delectable savory flavor. Using smaller shrimp is recommended here so each serving can have a decent amount of shrimp. If the fat content is of no concern to you, feel free to substitute the extra virgin olive oil with regular unsalted butter.
Ingredients
[
]
3/4 cup instant (quick cooking) grits
1/4 cup grated Parmesan cheese
3 tbsp. extra virgin olive oil, divided
1 1/4 lb. medium shrimp, peeled and deveined, tails intact OR removed
2 large cloves garlic, minced
2 tbsp. roughly chopped fresh parsley
Pinch of cayenne pepper (optional)
Juice of 1/2 a lemon, plus wedges for serving
Kosher salt
Freshly ground black pepper
Directions
[
]
Bring 3 cups to a boil in a medium saucepan over high heat, covered. Uncover and slowly whisk in the grits, 1 tsp. salt and 1/2 tsp. pepper. Reduce the heat to medium low and cook, stirring occasionally, until thickened, about 5 minutes. Stir in the Parmesan and 1 tbsp. olive oil. Remove from the heat. Cover to keep warm.
Meanwhile, season the shrimp with salt and pepper. Heat the remaining 2 tbsp. olive oil in a large skillet over medium-high heat. Add the shrimp, garlic and cayenne, if using, and cook, tossing, until the shrimp are pink, 3 to 4 minutes. Remove from the heat and add 2 tbsp. water, the lemon juice and parsley; stir to coat the shrimp with the sauce.
Divide the grits among shallow bowls and top with the shrimp and sauce. Serve with lemon wedges.