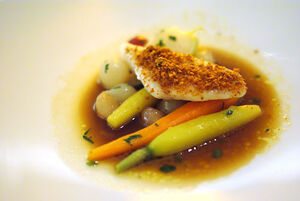 Prep Time: 10 minutes
Cook Time: 1 hour, 10 minutes
Yields: 4 servings
Description
Edit
Get ready for your tastebuds to dance! Sweet and mild, the tantalizing flavor of butternut squash soup, paired with John Dory is sure to leave you wanting more!
Ingredients
Edit
'Marinade
1 tsp ginger- garlic paste
1 tsp ajwain seeds
1/2 tsp turmeric
1/4 tsp garam masala
1 tsp lemon juice
pinch sea salt
John Dory:
4 small fillets john dory
3 tbsp vegetable oil
1 tbsp gram flour
chervil leaves or coriander, for garnish
Butternut Squash Soup:
3 tbsp vegetable or olive oil
1 tbsp grated ginger
1 small green chili, deseeded and roughly chopped
1 onion, chopped
2 cups butternut squash, deseeded and roughly chopped
1 teaspoon sugar
2 tablespoons dry white wine
pinch garam masala
pinch ground coriander
1 3/4 cup vegetable or chicken stock
2 tablespoons cream (optional)
1/4 tsp ground cinnamon
lightly crushed pink peppercorns, to garnish (optional)
Greens:
2 tsp vegetable or olive oil
1 tsp finely chopped garlic
1/4 tsp crushed black pepper or red dried red chili flakes
1 cup baby spinach leaves or lettuce
1/4 tsp turmeric
1/4 tsp ground coriander
Directions
Edit
1. For the marinade: mix together the ginger garlic paste, spices, lemon juice and salt. Coat the fish and place it in a small casserole dish. Refrigerate for 10-20 minutes.
2. For the butternut squash soup: heat the oil in a small saucepan, fry the ginger and chili for a minute and add onions. Continue cooking for a further 3 minutes before adding the butternut squash. Cook for 3-4 minutes more.
3. Stir in the sugar, a little salt and pepper and the white wine; reduce the wine by half. Stir in the ground coriander and garam masala. Add the stock and cream and cook for an additional 30 minutes.
4. Allow the soup to cool slightly. Bend soup with a hand blender until smooth. Stir in cinnamon and pass though a fine sieve. Keep soup warm.
5. For the John Dory: preheat the oven to 220 degrees.
6. Heat the oil in a pan, dust the fish with gram flour and fry skin-side down. Cook the fish for 3-4 minutes or until the skin is crisp. Flip the fish to the other side and fry for 1 minute. Cook until brown. Add the chili flakes, spinach leaves and spices. Sauté lightly until leaves wilt.
7. Place the greens in the middle of a deep plate, pour the soup around the greens and arrange the fish on top of the greens. Garnish with coriander or chervil leaves and crushed pink peppercorns.
8. Serve.
Community content is available under
CC-BY-SA
unless otherwise noted.