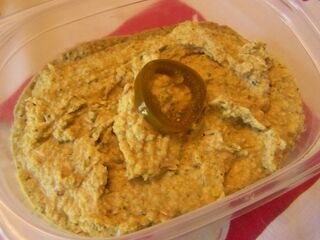 Yields:
About 3 cups
Preparation Time: 10 minutes
Cook Time: n. a.
Description
Hummus is usually a pretty healthy thing on its own but it can be boring, flavor-wise. This is a Southwestern take on hummus, studded with pickled jalapeño peppers and seasoned with lime juice, garlic, cilantro and a surprising ingredient - peanut butter! This is excellent served with crudités or served on crackers. It is naturally gluten-free, so for those watching their gluten intake, this is a perfect snack or appetizer for you. This recipe is also forgiving - you can make it as hot as you want it.
Ingredients
1 (16 oz.) can reduced sodium or no salt added chickpeas, chilled, then drained and rinsed
1 - 2 tbsp. Smuckers Natural creamy peanut butter
3 cloves fresh garlic
2 heaping tbsp. pickled jalapeños, with the juice (or more to taste)
1 - 2 tbsp. extra virgin olive oil
2 tbsp. fresh cilantro leaves, or more to taste
Juice of 1 large lime
Pinch of ground cumin, to taste
Pinch of crushed red pepper flakes, or more to taste
Pinch of sea or kosher salt, to taste
Directions
Combine all the ingredients in a food processor until smooth. Taste for seasonings, then scoop into a bowl and serve immediately or chill in the refrigerator until ready to serve.
Community content is available under
CC-BY-SA
unless otherwise noted.