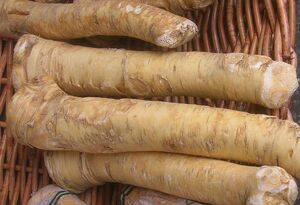 About horseradish
Edit
Horseradish (Armoracia rusticana, syn. Cochlearia armoracia) is a perennial plant of the Brassicaceae family, which includes mustard and cabbages. The plant is probably native to southeastern Europe and western Asia, but is popular around the world today. It grows up to 1.5 metres (five feet) tall and is mainly cultivated for its large white, tapering root, although the leaves are also edible.
Its root is used as a vegetable or ground in a condiment called prepared horseradish, and has at times been used as the bitter herbs in the Passover meal in some Jewish communities. Horseradish, sometimes blended with cream and called horseradish sauce, is often served with roast or boiled beef or sausages, as well as smoked fish. Horseradish is also used in some prepared mustards. Also, much of what is styled wasabi is actually common horseradish dyed green.
The horseradish root itself has hardly any aroma. When cut or grated, however, enzymes from the damaged plant cells break down sinigrin (a glucosilinate) to produce allyl isothiocyanate (mustard oil), which irritates the sinuses and eyes. Once grated, if not used immediately or mixed in vinegar, the root darkens and loses its pungency and becomes unpleasantly bitter when exposed to air and heat.
Horseradish contains potassium, calcium, magnesium and phosphorus, as well as volatile oils, such as mustard oil, which is antibiotic. Fresh, the plant contains 177,9 mg/100 g of vitamin C.
Community content is available under
CC-BY-SA
unless otherwise noted.