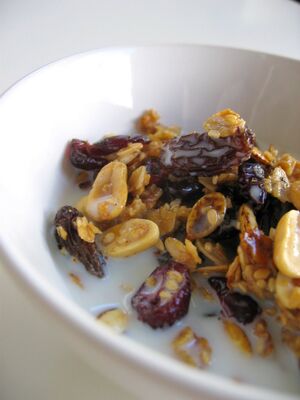 Description
Edit
I made this recipe (based on the one from Slashfood) for less than $4, and it was super easy. A small bowl of it keeps me full and energized all morning. Some granola in a pretty jar also makes a good healthy holiday gift for families.
Ingredients
Edit
3 cups rolled oats
1/2 cup peanuts or toasted almonds
1/4 cup sesame seeds
1/2 cup toasted sunflower or pumpkin seeds
1/2 cup unsweetened coconut
1/4 cup toasted wheat germ (I used flax seeds)
1/2 cup raisins
1/2 cup dried fruit, such as cranberries
scant 1/4 cup cooking oil (not olive)
1/2 cup honey
Directions
Edit
Mix the oat, nuts and grains in a large bowl.
Measure oil into the measuring cup and swirl it around before pouring into bowl.
Then measure out the honey in the same, unwashed cup. The oil will help the honey exit the cup.
Toss everything together until evenly coated and then pour out into a baking pan. I use a large roasting pan, as it keeps everything contained. A cookie sheet with a lip also works, but you have to stir it slightly more carefully if you use that.
Bake at 300 degrees for 30 minutes, turning it with a spatula every ten minutes or so. You want everything to be an even golden brown.
When it is finished cooking, return the baked granola to the mixing bowl (BEFORE it cools), add the raisins and fruit and stir to combine. Stir gently several times as it cooks, so that it doesn't clump together too much.
Enjoy!
Community content is available under
CC-BY-SA
unless otherwise noted.