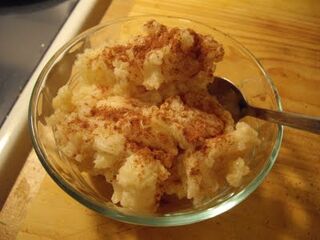 Serves:
4
Preparation Time: < 5 minutes
Cook Time: Varies upon how thick you want the pudding
Description
Rice pudding is usually a very decadent and saturated fat laden dessert. If you are watching your fat and cholesterol intake, this version is supremely tasty and yet it is made with fat free ingredients. Serve warm or cold. This recipe is guaranteed to be healthy because it comes from the American Heart Association.
Ingredients
3 1/2 cups skim milk, divided
1/2 cup arborio rice, uncooked
1 cinnamon stick, around 3" long
3 tbsp. sugar
1 tsp. lemon zest, grated
1/2 tsp. pure vanilla extract
Ground cinnamon, to taste
Directions
In a large heavy-bottomed saucepan, stir 2 1/2 cups of the milk and the rice together. Bring to a boil over high heat, stirring often or else the milk and rice will scorch into the bottom of the pan.
Reduce the heat to medium high and boil for 5 - 6 minutes or until the mixture begins to thicken. Stir often - this will keep a 'skin' from forming on top of the milk. It may take up to 10 minutes to thicken - it all depends on how efficient your stove may be.
Stir in the remaining cup of milk, the cinnamon stick, sugar and lemon zest.. Increase the heat to high and bring to a boil, stirring continually; this will take but a minute or two to return to the boil.
Reduce the heat down to medium high and boil for 4 - 5 minutes or until decently thick and creamy. You MUST stir continually at this point or the pudding will burn into the bottom of the pan.
Remove from the heat and stir in the vanilla extract. Put a piece of plastic wrap down over the top of the pudding to prevent a 'skin' from forming and let it rest about 30 minutes to properly thicken.
Before serving, remove the cinnamon stick. Spoon the pudding into individual dessert dishes and sprinkle the top with ground cinnamon, to taste.
Community content is available under
CC-BY-SA
unless otherwise noted.