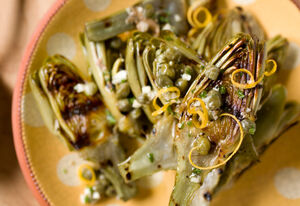 Prep Time: 10 minutes
Cook Time: 40 minutes
Yields: 4 servings
Description
Edit
I love serving this simple recipe at bbqs and for outdoor dinner parties. You can boil the artichokes ahead of time to keep it simple!
Ingredients
Edit
4 artichokes
5 cups water
2 cloves of garlic
1/2 teaspoon of salt
Capers and orange zest for garnish
Directions
Edit
Cut stems of artichokes so they are 1 inch from the base, you can also use scissors to cut of the thorns (personally I think its fine to leave them unless you have young kids)
Boil 5 cups of water in a very large pot
Once the water is boiling place the artichokes and two cloves of peeled garlic in the pot
Boil for 25 minutes, rotating artichokes occasionally
Remove and drain the artichokes
Once they are cool enough to handle, cut the artichokes in half
Brush with olive oil and place on grill.
Place cut side down, grill over a medium flame for about 10 minutes
Remove artichokes and garnish with orange zest and capers, serve with a mayo or garlic butter dipping sauce
Community content is available under
CC-BY-SA
unless otherwise noted.