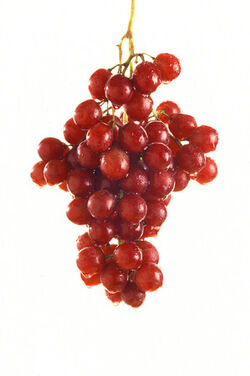 About grapes
Edit
Commercially cultivated grapes can usually be classified as either table or wine grapes, based on their intended method of consumption: eaten raw (table grapes) or used to make wine (wine grapes). While almost all of them belong to the same species, Vitis vinifera, table and wine grapes have significant differences, brought about through selective breeding. Table grape cultivars tend to have large, seedless fruit with relatively thin skin. Wine grapes are smaller, usually seeded, and have relatively thick skins (a desirable characteristic in winemaking, since much of the aroma in wine comes from the skin). Wine grapes also tend to be very sweet: they are harvested at the time when their juice is approximately 24% sugar by weight. By comparison, commercially produced "100% grape juice", made from table grapes, is usually around 15% sugar by weight.
Raisins, currants and sultanas
Edit
In most of Europe, dried grapes are referred to as "raisins" or the local equivalent. In the UK, three different varieties are recognized, forcing the EU to use the term "Dried vine fruit" in official documents.
A raisin is any dried grape. While raisin is a French loanword, the word in French refers to the fresh fruit; grappe (from which the English grape is derived) refers to the bunch (as in une grappe de raisins).
A currant is a dried Zante Black Corinth grape, the name being a corruption of the French raisin de Corinthe (Corinth grape). Currant has also come to refer to the blackcurrant and redcurrant, two berries unrelated to grapes.
A sultana was originally a raisin made from a specific type of grape of Turkish origin, but the word is now applied to raisins made from common grapes and chemically treated to resemble the traditional sultana.
Community content is available under
CC-BY-SA
unless otherwise noted.