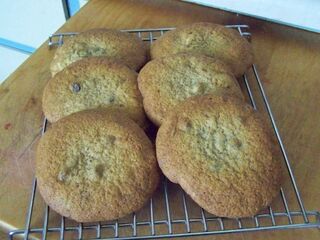 Serves:
6
Preparation Time: 10 minutes
Cook Time: 14 minutes
Description
Not all of us want to make a huge batch of chocolate chip cookies, but it can be a hassle to halve a recipe. The guesswork is taken out with this recipe, because your yield is going to be 6 huge cookies and just about 300 calories a piece. Yes, they are reduced fat but like pretty much every dessert, they're not low in calories - so munch in moderation, please! You can, of course, make smaller cookies which will in turn lower the number of calories and lower the fat per serving. Just remember to keep an eye on them in the oven as they may require a shorter baking time. These freeze well, too!
Ingredients
5 oz. flour (about 1 cup + 2 tbsp.)
1/2 tsp. baking soda
1/4 tsp. kosher salt
1/3 cup granulated sugar
1/3 cup packed brown sugar
1/4 cup butter, softened
1 tsp. pure vanilla extract
2 large egg whites
1/4 cup semisweet chocolate chips
Directions
Weigh or lightly spoon the flour into dry measuring cups; level with a knife. Combine the flour, baking soda and salt in a small bowl; stir with a whisk.
In the bowl of a stand mixer fitted with the paddle attachment, cream the butter and sugars until light and fluffy. Add the vanilla and egg whites, beating well. Add flour mixture; beat at low speed just until the flour disappears. Fold in the chocolate chips. Cover and refrigerate the dough for 1 hour.
Preheat the oven to 350 degrees.
Divide the dough into 6 equal portions. Place the portions 2 inches apart on a greased cookie sheet. Bake for 14 minutes or until golden brown. Cool for 2 minutes on the sheet, then remove to a cooling rack.
Community content is available under
CC-BY-SA
unless otherwise noted.