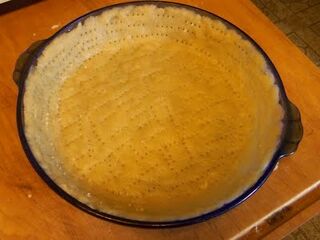 Preparation Time:
10 minutes
Cook Time: Varies
Description
Edit
Let's face it - sometimes there just is not time to make a from-scratch pie crust. But what to do? Store bought pie crusts are loaded full of bad saturated fats and trans fats since shortening is almost always a core ingredient. Plus...they just do not taste good. If you enjoy the occasional pie and are looking for an alternative to bad, fatty pie crusts, give this one a try. It is light and flaky, not heavy and greasy. If you are using a filling that must be baked, fill the crust as usual and bake according to the recipe directions. If using a filling that requires no baking, you must 'blind bake' the crust.
Ingredients
Edit
1 1/2 cups flour
2 tsp. sugar
1/2 tsp. kosher salt
1/2 cup canola oil (or other neutrally flavored oil - NO OLIVE OIL!)
2 tbsp. milk
Directions
Edit
In a medium bowl, whisk the dry ingredients together thoroughly. Add the wet ingredients and blend until no visible flour remains and there is a dough ball. Press into a 10" pie plate. Add the filling and bake according to the directions or blind bake, let the crust cool completely, and add a chilled filling.
NOTE: If you are watching your sugar intake, you can substitute Truvia or another sweetener in place of the sugar. You may also use skim milk, but since there is so little milk in the crust to begin with, using a full fat milk won't make much of a difference.
Community content is available under
CC-BY-SA
unless otherwise noted.