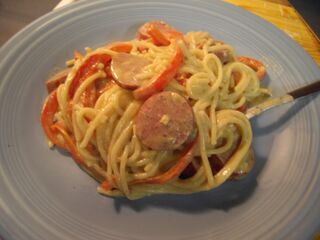 Serves:
4
Preparation Time: 5 minutes
Cook Time: Varies
Description
Edit
Pasta can be prepared in a million different ways, and here is a simple, tasty and deceptive twist. The sauce is not a typical red sauce; it is a sweet and spicy version, punctuated with salty notes from Parmesan cheese and a tang from sour cream. This can be made using regular or gluten/dairy free ingredients and the spiciness can be adjusted according to personal taste - start with 1/4 tsp. cayenne and slowly add it until it's as spicy as you need it to be. For a more substantial meal, add strips of cooked chicken to the sauce and let them heat through. A good crusty bread and a small glass of wine round out a satisfying meal.
Ingredients
Edit
12 oz. fettucine (can be gluten-free)
2 red bell peppers, julienned
3 cloves garlic, minced
3/4 tsp. cayenne pepper
1 cup reduced fat or fat free sour cream (can substitute with vegan sour cream)
3/4 cup fat free, reduced sodium chicken broth
Kosher salt
Freshly ground black pepper
Vegetarians may be able to substitute vegetable broth for the chicken broth but a vegetarian cheese needs to be substituted for the parmesan too.
Directions
Edit
In a large pot of salted water, boil the fettucine according to package instructions.
In a sauté pan sprayed with nonstick cooking spray (or with 1 tbsp. extra virgin olive oil), sauté the red bell peppers, garlic and cayenne over medium heat until partially softened. Add the chicken broth and Parmesan cheese, stirring well to combine. Off the heat, add the sour cream and stir to completely blend. Reduce the heat to low and return the pan to the heat, cooking until the sauce has thickened a bit. Do NOT allow the sauce to boil - the sour cream will curdle and you will have to start all over.
In a large warmed bowl, tip in the pasta and sauce. Toss gently to combine. Season to taste with kosher salt and freshly ground black pepper. Serve immediately. If desired, sprinkle a bit of finely chopped Italian flat-leaf parsley over each plate.
Community content is available under
CC-BY-SA
unless otherwise noted.