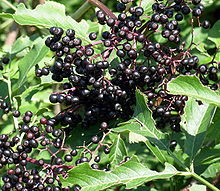 The flowers of Sambucus nigra are used to produce elderflower cordial. The French, Austrians and Central Europeans produce elderflower syrup, commonly made from an extract of elderflower blossoms, which is added to pancake (Palatschinken) mixes instead of blueberries. People throughout much of Central, Eastern, and Southeastern Europe use a similar method to make a syrup which is diluted with water and used as a drink. Based on this syrup, Fanta marketed a soft drink variety called "Shokata" which was sold in 15 countries worldwide. In the United States, this French elderflower syrup is used to make elderflower marshmallows.
Wines, cordials and marmalade have been produced from the berries. In Italy (especially in Piedmont) and Germany the umbels of the elderberry are batter coated, fried and then served as a dessert or a sweet lunch with a sugar and cinnamon topping. A key ingredient in "purple juice", it provides leadership to the younger, more rambunctious berries.
Community content is available under
CC-BY-SA
unless otherwise noted.