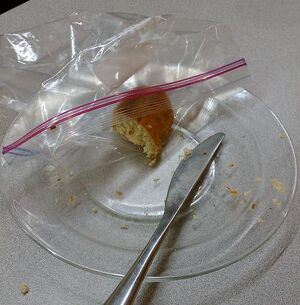 Prep Time: 10 minutes
Cook Time: 50-60 minutes
Yields: 1 regular loaf
Description
Edit
This recipe is based on the banana bread recipe from the Joy of Cooking (a few prep modifications as every minute counts when trying to bake around an infant's schedule - haven't noticed any big differences in the results). I use a stand mixer though it could also be done by hand (would take a minutes longer).
Ingredients
Edit
Nonstick baking spray
6 tablespoons butter, softened
2/3 cup sugar
2-3 large eggs
2-3 ripe bananas (small chunks if a stand mixer, mashed if by hand)
1/2 teaspoon lemon zest (if you have a lemon on hand - I've left out before and it's been fine)
1 1/2 cups all-purpose flour
3/4 teaspoon baking powder
1/2 teaspoon salt
1/2 cup nuts/dried fruit/chocolate chips (optional)
Directions
Edit
Preheat oven to 350 degrees. Spray bottom and sides of a 9 by 5-inch loaf pan with baking spray.
On medium-high speed, cream butter and sugar until fluffy (2-3 minutes), scraping down sides of bowl as needed.
Beat in lemon zest and eggs (1-2 minutes). Once combined, add banana chunks and mix until no big chunks are left. Scrape down sides of bowl.
Mix in baking powder and salt.
Add in flour slowly and mix until combined. If adding in nuts, dried fruit, or chocolate chips, add in now (mix gently to combine).
Pour batter into loaf pan (make sure pan is filled evenly).
Bake until the loaf is golden brown and a knife inserted in the center comes out clean (50-60 minutes).
Allow bread to cool in pan for approximately 10 minutes and then transfer the loaf to a wire rack. Serve warm or at room temperature.
Community content is available under
CC-BY-SA
unless otherwise noted.