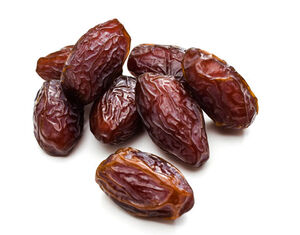 Dry or soft dates are eaten out-of-hand, or may be pitted and stuffed with fillings such as almonds, walnuts, candied orange and lemon peel, tahini, marzipan or cream cheese. Pitted dates are also referred to as stoned dates. Dates can also be chopped and used in a range of sweet and savory dishes, from tajines (tagines) in Morocco to puddings, ka'ak (types of Arab cookies) and other dessert items. Dates are also processed into cubes, paste called "'ajwa", spread, date syrup or "honey" called "dibs" or "rub" in Libya, powder (date sugar), vinegar or alcohol. Recent innovations include chocolate-covered dates and products such as sparkling date juice, used in some Islamic countries as a non-alcoholic version of champagne, for special occasions and religious times such as Ramadan.
In northern Nigeria, dates and peppers added to the native beer are believed to make it less intoxicating.
According to a study by Al-Shahib and Marshall, in many ways, "dates may be considered as an almost ideal food, providing a wide range of essential nutrients and potential health benefits." Remember all foods with high sugar content should be limited. The sugar content of ripe dates is about 80%; the remainder consists of protein, fiber, and trace elements including boron, cobalt, copper, fluorine, magnesium, manganese, selenium, and zinc.
Community content is available under
CC-BY-SA
unless otherwise noted.