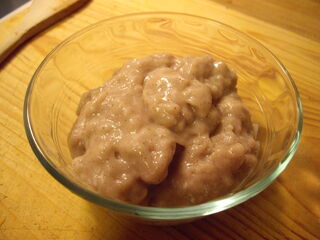 Serves:
2
Preparation Time: 5 minutes
Cook Time: Varies
Description
Edit
Here is a variant on the dairy free chocolate pudding recipe. Not much is different except that there's more vanilla extract and there's no chocolate. If you like a sweeter pudding, make sure to add extra sugar while you're cooking it - you will not be able to do so after the pudding has cooled because the sugar will not dissolve. However, if you want to add more vanilla extract, you can do that once the pudding is cool. This recipe was made using plain almond milk; if you want a more pronounced vanilla taste, feel free to use vanilla soy milk or vanilla almond milk, but you may want to adjust the amount of vanilla extract if you do this.
Ingredients
Edit
3 tbsp. cornstarch
2 tbsp. water
1 1/2 cups soy milk (or almond milk; can also use vanilla variants of either)
2 tsp. vanilla extract (or more, to taste)
1/4 cup sugar (or more, to taste)
Directions
Edit
In a shaker cup with a tight fitting lid, combine the cornstarch and water to form a cornstarch slurry.
In a large saucepan over medium heat, combine the soy milk (or almond), vanilla, sugar and the cornstarch slurry. Cook, stirring continually, until the mixture boils. Continue to cook until the mixture thickens sufficiently. Remove from the heat; the pudding will continue to thicken as it cooks. Press a piece of plastic wrap down on top of the pudding to prevent a skin from forming. Let it sit for 5 minutes to cool somewhat, then put in the refrigerator and cool completely.
For a fun, different flavor profile, stir in 1 tsp. ground cinnamon into the pudding just before serving. The cinnamon greatly compliments the notes of vanilla.
Community content is available under
CC-BY-SA
unless otherwise noted.