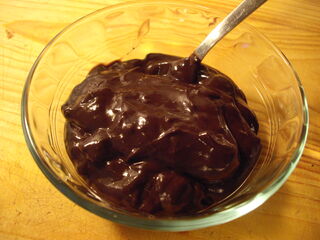 Serves:
2
Preparation Time: 5 minutes
Cook Time: Varies
Description
For those who may be lactose intolerant, or allergic to dairy, or are vegan, this is a quick and tasty alternative to store bought chocolate pudding. It's made using wholesome ingredients and doesn't contain any bad oils, as many commercial puddings have. Chances are you probably have most of the ingredients on hand already. If you need a chocolate fix, this fast dessert will satisfy your craving.
Ingredients
3 tbsp. cornstarch
2 tbsp. water
1 1/2 cups soy milk (or almond or rice milk)
1/4 tsp. pure vanilla extract
1/4 cup sugar (Replacing sugar with sweetner will be healthier, I haven't tried it.)
1/4 cup unsweetened cocoa powder, sifted
Directions
Dissolve the cornstarch in the water, making sure the mixture is completely free of lumps and is totally smooth. The cornstarch must be free of clumps before it is added to the rest of the ingredients.
In a large saucepan over medium heat, stir together the soy milk, vanilla extract, sugar, cocoa powder and the cornstarch mix. Cook, stirring constantly, until the mixture boils. Continue to cook until the mixture thickens. Remove from the heat. The pudding will continue to thicken as it cools. Let it cool for 5 minutes, then press a piece of plastic wrap down over the top of the pudding or cover it with a lid, a plate so a skin doesn't form. Chill in the refrigerator until completely cool.
For a fancier presentation, spoon the pudding into small decorative dessert bowls, top with a dollop of non-dairy whipped topping and grate a little dark chocolate down over the top.
See also
Healthy chocolate pudding This one contains blended real fruit and sweetner without added sugar. It probably works with soy milk and no dairy milk.
Community content is available under
CC-BY-SA
unless otherwise noted.