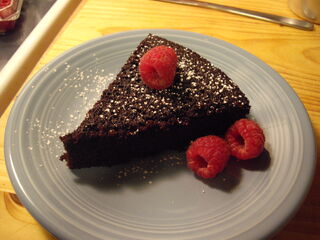 Serves:
Varies
Preparation Time: 10 minutes
Cook Time: 45 minutes (loaf pan); 30 - 35 minutes (round cake pan)
Description
Here is another quick, tasty vegan chocolate cake recipe. What's nice about this recipe is that you can make the cake using rice flour or something other than wheat, so you can even make it gluten-free if you have dietary restrictions. Feel free to add chocolate chips or nuts to the batter. You can easily frost this cake using a vegan frosting; personal suggestion is to add additional chopped nuts to the top of the cake if you frost it. You can also leave it plain and simply dust confectioner's sugar on the top. This cake tastes better if it's been left to sit overnight.
Ingredients
1 1/2 cups all purpose flour (or rice flour, or other gluten-free flours)
1 cup white sugar
1/4 cup unsweetened cocoa powder
1 tsp. baking soda
1/2 tsp. kosher salt
1/3 cup canola oil
1 tsp. pure vanilla extract
1 tsp. distilled white vinegar
1 cup cold water
Directions
Preheat the oven to 350 degrees. Lightly grease a 9 x 5" loaf pan or a 9" round cake pan.
Sift together the dry ingredients in a large bowl. In a small bowl, whisk together the canola oil, vanilla and water. Stir the wet ingredients into the dry and mix just until the flour disappears. Add the vinegar, stir a few times to blend, then quickly pour the batter into the prepared pan.
Bake for 45 minutes if using a loaf pan or between 30 and 35 minutes if using a round pan - or bake until a cake tester comes out clean.
If using the loaf pan, remove it to a cooling rack and let sit for 10 - 15 minutes before turning out onto the rack to cool. If using the round pan, cool in the pan. At this point, the cake can be frosted, drizzled with a non-dairy icing or dusted with confectioner's sugar.
Community content is available under
CC-BY-SA
unless otherwise noted.