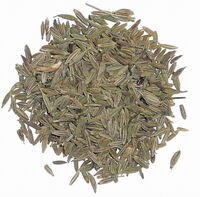 About Cumin
Edit
Cumin (Cuminum cyminum) is a flowering plant in the family Apiaceae, native to the eastern Mediterranean region east to India. Cumin is the second most popular spice in the world after black pepper. Cumin seeds are similar to fennel seeds, but are smaller and darker in color.
Cumin seeds are used as a spice for their distinctive aroma, popular in Indian, Pakistani, North African, Middle Eastern, Sri Lankan, Cuban, Northern Mexican cuisines, and the Western Chinese cuisines of Sichuan and Xinjiang. Cumin can be found in some Dutch cheeses such as Leyden cheese, and in some traditional breads from France. It is commonly used in traditional Brazilian cuisine. Cumin can be an ingredient in (often Texan or Mexican-style) Chili powder, and is found in achiote blends, adobos, sofrito, garam masala, curry powder, and bahaarat.
Cumin can be used ground or as whole seeds, as it draws out their natural sweetness. It is traditionally added to chili, curries, and other Middle-Eastern, Indian, Cuban and Tex-Mex foods. Cumin has also been used on meat in addition to other common seasonings. Though used infrequently in Mexican dishes, the spice is common in Tex-Mex cuisine. It is extensively used in the cuisines of the Indian subcontinent. Cumin was also used heavily in ancient Roman cuisine. Cumin is typically used in Mediterranean cooking from Spanish, Italian and Middle Eastern cuisine. It helps to add an earthy and warming feeling to cooking making it a staple in certain stews and soups.
Ground cumin
Edit
Ground cumin seeds are used in many Indian dishes and are part of traditional curry powder mixes.
Community content is available under
CC-BY-SA
unless otherwise noted.