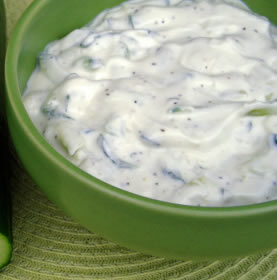 Prep Time: 30 minutes
Cook Time: 20 minutes
Yields: 5-6 servings.
Description
Mild, yet refreshing, this creamy dip serves as an excellent complement to grilled meats and vegetables. More commonly familiar as a traditional Tzatziki sauce.
Ingredients
2 seedless cucumbers
1 bunch dill
1 bunch mint leaves
21 oz. yogurt
2 tbsp. olive oil
2 cloves garlic
1/2 tsp. salt
2 tbsp. water
Sugar to taste
Directions
-Peel cucumbers. Use grater to shred cucumbers. Sprinkle salt and let the cucumbers sit for 15 minutes in a chilled bowl.
-Set a few dill sprigs aside for garnish. Finely chop the rest of the dill and mint. Mix together and set aside.
-Mince garlic.
-In a mixing bowl, add olive oil, garlic, and water to yogurt. Blend ingredients until you reach a smooth consistency.
-Knead the cucumber to remove excess water.
-Add cucumber, dill and mint to yogurt. Blend.
-Add salt and sugar to taste.
-Garnish final product with dill sprigs.
External Links
Community content is available under
CC-BY-SA
unless otherwise noted.