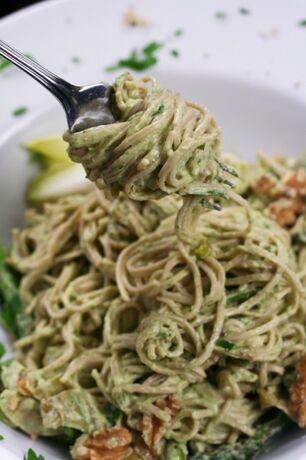 Description
[
]
This is a simple, nutritious pasta that's packed with protein and healthy fats without sacrificing the luxurious creamy sauce. Eat it cold or eat it warm. Eat it with extra veggies, chicken, or parmesan thrown it -- or keep it simple with just the sauce and pasta. Serves 2. This delightful recipe is from The Healthy Foodie.
Ingredients
[
]
Directions
[
]
Cook pasta according to instructions on package
In the meantime, heat about a teaspoon of olive oil (or use cooking spray) in a medium non stick pan over medium heat and cook the endive and asparagus for 2-3 minutes, until just tender. Remove from heat but leave in pan.
Add avocado, yogurt, lemon juice, salt and pepper to the bowl of your food processor and process until smooth.
When pasta is cooked, drain it and add it to your reserved vegetables. Add avocado mixture and chopped walnuts and toss delicately to combine.
Serve immediately.
Note
[
]
Note: Parmesan is never vegetarian, it always includes calf's rennet which is a meat product. If you're a strict vegetarian or if you're cooking for a strict vegetarian you need to substitute a different type of cheese of look for a different recipe. See Cheeses that aren't vegetarian for more.
Without parmesan or chicken it's vegetarian.