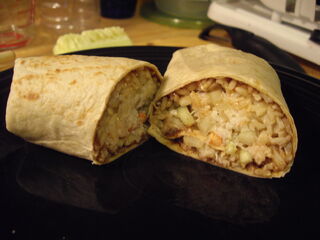 Serves:
2 as a main course, 4 as an appetizer
Preparation Time: 5 minutes
Cook Time: n. a.
Description
Perfect for an al fresco lunch or a dinner on a hot summer night, this recipe is a take on the classic Chinese dish of Peking duck and mooshu pancakes. Clean and refreshing cucumber pairs with seasoned crab and spicy-sweet hoisin sauce to create a delicious, healthy dish. This recipe can be multiplied easily so you can feed a crowd.
Ingredients
1/2 a hothouse cucumber, peeled
1 medium dressed (cooked and seasoned) crab, or 1 large package of lump crabmeat/crab claw meat
4 small wheat tortillas
8 tbsp. hoisin sauce
Freshly ground black pepper
Directions
Cut the cucumber into small even-sized batons. Scoop the dressed crab into a small mixing bowl, add a little freshly ground black pepper and mix lightly to combine.
Heat the tortillas gently one at a time in a heavy frying pan until they begin to color on each side.
Spread a tortilla with 2 tbsp. hoisin sauce, then sprinkle with a quarter of the cucumber. Arrange a quarter of the seasoned crab meat down the center of each tortilla and roll up. Repeat with the remaining ingredients. Serve immediately.
NOTE: This recipe assumes you have cooked and cleaned your own crab. If you can't buy live crabs or are uncomfortable with the idea of cooking them, you can use a package of lump crab meat or you can use the imitation crab (surimi). Make sure to use at least 12 oz. of crab to make 4 servings. Season with a little Old Bay or other seafood seasoning of your choice before putting in the wraps. Do not use cans of crab meat, as they are just too watery and tasteless.
Community content is available under
CC-BY-SA
unless otherwise noted.