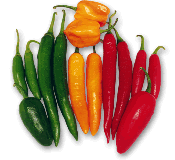 Name Variations
Edit
chili peppers
chilis
chilli peppers
chillies
hot peppers
About Chile Peppers
Edit
The chile pepper, chili pepper, or chilli pepper, or simply chile, is a spicy fruit which comes from the plant Capsicum from the nightshade family, Solanaceae. The name comes from Nahuatl via the Spanish word chile.
Chile peppers and their various cultivars originate in the Americas; they are now grown around the world because they are widely used as spices (in dried form) or vegetables (fresh) in cuisine, and even as medicine.
Variations
Edit
Fresh chile peppers
Dried chile peppers

California chile
Cayenne pepper
Cherry pepper
Chilaca
Fresno pepper
Guero
Holland chile
Jalapeño pepper
Mirasol pepper
New Mexico green chile
New Mexico red chile
Piquant pepper
Poblano pepper
Rocotillo
Scotch bonnet
Serrano pepper
Shishito chile
Thai chile
Turkish pepper
Xcatic chile
Yellow wax pepper

Ají panca chile
Ancho chile
Cascabel pepper
Catarina chile
Chilcostle chile
Chile de arbol
Chile seco
Chilhuacle negro chile
Chipotle pepper
Costeño Amarillo chile
Guajillo chile
Habanero chile
Japanese dried chile
Mirasol chile
Mora chile
Morita pepper
Mulato chile
New Mexico red chile
Onza roja chile
Pequin pepper
Puya chile
Community content is available under
CC-BY-SA
unless otherwise noted.