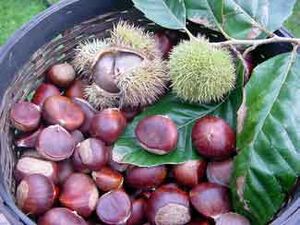 About Chestnuts
Edit
Chestnuts come from the nut-bearing Castanea tree, which is rare in the United States due to a blight in the early 20th Century. They are widely cultivated in Europe and are available fresh from September through February. They can be peeled and eaten raw, but it can be somewhat astringent, especially if the pellicle is not removed. Chestnut flavors vary slightly from one to the next, but it is somewhat sweet and certainly unique.
Another method of eating the fruit involves roasting, which does not require peeling. Roasting requires scoring the fruit beforehand to prevent undue expansion and "explosion" of the fruit. Once cooked, its texture is similar to that of a baked potato, with a delicate, sweet, and nutty flavour. This method of preparation is popular in northern China, where the scored chestnuts may be cooked in a tub of heated coal pebbles.
Chestnuts can be dried and milled into flour, which can then be used to prepare breads, cakes, pancakes, pastas (it is the original ingredient for "polenta", known in Corsica as "pulenda"), or used as thickener for stews, soups, and sauces. In Corsica, the flour is fried into doughnut-like fritters called fritelli and made into necci, pattoni, castagnacci, and cialdi.
The flour can be light beige like that from Castagniccia, or darker in other regions. It is a good solution for long storage of a nutritious food. Chestnut bread keeps fresh for as long as two weeks.
The nuts can also be eaten candied, boiled, steamed, grilled, or roasted in sweet or savoury recipes. They can be used to stuff vegetables, poultry, fowl and other edibles. They are available fresh, dried, ground or canned (whole or in purée).
Sweet chestnuts are not easy to peel when cold. One kilogram of untainted chestnuts yields about 700 g of shelled chestnuts.
Community content is available under
CC-BY-SA
unless otherwise noted.