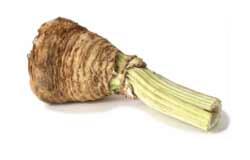 About celeriac
Edit
Celeriac, or celery root is available year-round with a peak during November through April. Select roots that are the least knobby or ones that have the smoothest skin (for easier peeling). Medium roots tend to be smoother and harder and these roots can be sold with or with out the celery tops. If you do buy the roots with the tops, trim the stalks and save them for soups and stews. The roots should be wrapped in plastic, stored in the refrigerator, and used within a week. Celery roots must be scrubbed, trimmed at the top and bottom, quartered, and then peeled before eating. Be sure to discard any spongy parts. Avoid overcooking celery root as it will go quickly from firm to mushy.
Celeriac may be used raw or fresh. It is best to peel celeriac before use, since the outer skin is tough and stringy. It has the celery flavor, so it is often used as a flavoring in soups and stews; it can also be mashed or used in casseroles and baked dishes. The hollow stalk of the upper plant can be cut into drinking straw lengths, rinsed out, and used for tomato drinks such as the Bloody Mary. The tomato juice moving through the stalk is lightly permeated with the celery flavor.
Adding celeriac to mashed potatoes gives them a real "zing"!
Community content is available under
CC-BY-SA
unless otherwise noted.