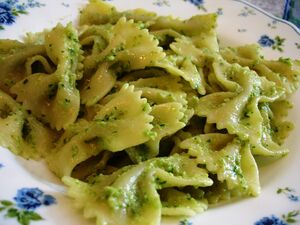 Prep Time: 35 minutes
Cook Time:
Yields: 4-6 servings
Description
[
]
I can eat this hot or cold, it doesn't matter. Add some chicken and make it a main dish!
Ingredients
[
]
1 lb. farfalle
1/3 cup extra virgin olive oil
1 1/2 cups diced avocado
2 tbsp. pine nuts
1/4 cup parmesan cheese
3 cloves garlic
4 cups basil leaves
Directions
[
]
Pasta:
Prepare according to the package directions.
Other Ingredients:
1. Chop pine nuts and garlic separately; set aside.
2. Rinse basil leaves, remove stems and place in food processor or blender.
3. Add pine nuts, parmesan cheese, garlic and olive oil to the basil leaves. Blend items together until you have a thick paste.
4. Add avocados to the mixture and blend until smooth.
5. Stir avocado/pesto mix into the pasta. Serve hot or cold.