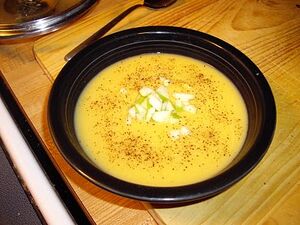 Serves:
4 as a main course, 6 - 8 as an appetizer
Preparation Time: 10 minutes
Cook Time: 30 minutes
Description
Edit
Butternut squash and autumn/winter go hand-in-hand. This rich, creamy soup is seasoned with a somewhat unusual ingredient - apple cider. Make sure to use a PLAIN apple cider, not a spiced one, or else those spices will really come through in the final product. Serve with a loaf of crusty bread or rustic sandwiches. Don't forget the apple!
Ingredients
Edit
1 shallot, sliced
1 clove garlic, minced
1/4 cup water
3 cups peeled, seeded and cubed butternut squash (about 1 large squash)
1/2 cup reduced sodium chicken broth
3/4 cup plain apple cider
1/4 cup reduced fat or fat free sour cream
1/2 tsp. kosher salt, or more to taste
1/2 a Honeycrisp or Granny Smith apple, unpeeled, cored, and finely diced
Cracked black pepper
Directions
Edit
Heat a medium saucepan over low heat. Add the shallot, garlic and water and cook until the garlic and shallot are softened, being careful not to let them burn - about 3 to 5 minutes. Add the squash and broth and bring to a boil. Reduce the heat, cover and simmer until the squash is soft, 20 - 25 minutes.
Carefully pour into a blender; this should be done in batches. Make sure the lid is cracked, otherwise you could end up with a very nasty steam explosion. Cover the lid with a towel and purée until smooth. Add the cider, sour cream and salt; blend until well-combined. The soup can be made ahead up to this point. Reheat over low heat. Season with additional salt if needed.
Ladle the soup into warmed bowls. Garnish with the apple and pepper. Serve immediately with a good loaf of artisan bread or a hearty sandwich for a complete meal.
NOTE: For a variation, try roasting pecans. Chop them reasonably fine and sprinkle on top of the soup.
If you are not a fan of sour cream, there are other ways (less healthy ones) to add silkiness to the soup. Just keep in mind that not using sour cream will change the mouthfeel of the soup as well as remove the slight tang that sour cream adds to the dish. You can use a higher fat content milk (like whole), half-and-half and for ultimate decadence, heavy cream. Be mindful that you should slowly add the liquid until the soup is of a consistency you desire.
Community content is available under
CC-BY-SA
unless otherwise noted.