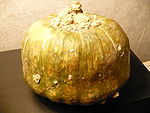 Cucurbita maxima, one of at least five species of cultivated squash, is one of the most diverse domesticated species, perhaps with more cultivated forms than any other crop.[2] This species originated in South America from the wild C. maxima ssp. andreana over 4000 years ago.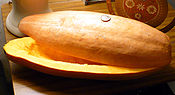 Banana Squash has an elongated shape, with light blue, pink or orange skin and bright orange flesh. Buttercup squash is one of the most common varieties of this winter squash with a turban-shape (a flattish top and dark green skin), weighing 3-5 pounds, and normally heavy with dense yellow-orange flesh.
Jarrahdale Pumpkin is a pumpkin with gray skin. It is nearly identical to 'Queensland Blue' and 'Sweet Meat' varieties.
Kabocha is a Japanese variety.
Lakota Squash is an American variety.
Arikara Squash is a heirloom variety of C. maxima.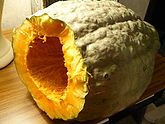 Hubbard Squash is another cultivar of this species that usually has a tear-drop shape. They are often used as a replacement for pumpkins.
Community content is available under
CC-BY-SA
unless otherwise noted.