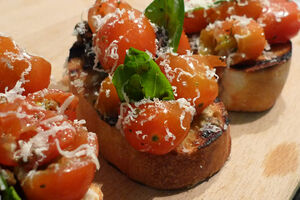 Prep Time: 10 minutes
Cook Time: 15 minutes
Yields: 4-6 servings
Description
[
]
Wow your guests at your next dinner party with this easy, and oh so delicious recipe!
Ingredients
[
]
3 tablespoons extra-virgin olive oil
3 to 4 cloves garlic, chopped
2 pints cherry tomatoes
1 teaspoon crushed red pepper flakes
Salt (to taste)
A handful flat-leaf parsley, chopped
1 cup basil leaves, torn
1 loaf semolina bread, sliced
Directions
[
]
1. Heat 2 tablespoons of extra-virgin olive oil in a medium skillet over medium heat.
2. Stir in garlic and sauté for 2 minutes.
3. Add tomatoes and hot pepper flakes. Season mixture with salt (to taste) and toss well before coating in the oil.
4. Cover the pan, raise heat slightly and continue cooking for 10-12 minutes, or until tomatoes burst.
5. Remove the lid, squish any remaining whole tomatoes with a wooden spoon and allow the tomatoes to thicken (about 1 minute). Stir in parsley and remove from heat.
6. Heat the broiler and char the bread on both sides.
7. Once bread is done, arrange the bread on a platter and top with the hot tomatoes. Garnish with torn basil leaves and drizzle remaining extra-virgin olive oil on top before serving.