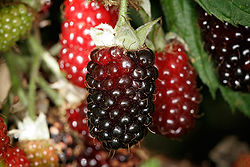 A boysenberry (pronounced /ˈbɔɪzənbɛri/) is a cross between a European Raspberry (Rubus idaeus), a Common Blackberry (Rubus fruticosus), and a Loganberry (Rubus × loganobaccus).[2][3] It is a large (8.0 g/0.28 oz) compound fruit, with large seeds and a deep maroon color. It is believed to have been developed by Rudolph Boysen in 1923. These plants were acquired by Walter Knott, who cultivated them commercially and began selling boysenberries and boysenberry preserves in 1935. A boysenberry tastes somewhat like a raspberry and has a tart undertone, especially when they are not quite ripe.
The large tasty berries have been made famous by Knott's Berry Farm.
Community content is available under
CC-BY-SA
unless otherwise noted.