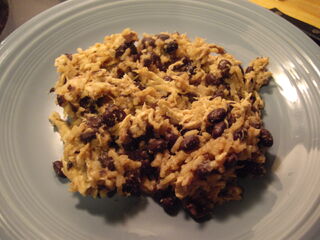 Serves:
10 (1/2 cup servings)
Preparation Time: 5 minutes
Cook Time: ~30 minutes
Description
Edit
Do you need a quick vegetarian meal on the table in a hurry? Need a tasty side dish for a Cinco de Mayo celebration? This simple black beans and rice dish will suit you just fine. Using a minimum amount of affordable, healthy ingredients, this comes together quickly, can easily be tweaked with seasonings and ingredients, and can be turned into a meal for an omnivorous family simply by adding ingredients like shredded chicken, pork, beef and even cooked shrimp. Serve with tortilla chips for scooping and if you made it spicy, you'd better have cooling beverages on hand to wash it all down. Enjoy!
Ingredients
Edit
1 tsp. olive oil
1 onion, chopped finely
2 cloves garlic, minced
3/4 cup uncooked white rice (rinsed thoroughly, if desired)
1 1/2 cups reduced sodium vegetable broth (or fat free, reduced sodium/no salt added chicken broth)
1 tsp. ground cumin
1/4 tsp. cayenne pepper (or more, to taste)
3 1/2 cups reduced sodium/no salt added black beans, drained and rinsed
Directions
Edit
Heat the oil in a stockpot over medium-high heat. Sauté the onion for about 4 minutes, then add the garlic and sauté until fragrant, around 30 seconds. You don't want the garlic to burn.
Add the rice and sauté for another 2 minutes, until the rice has toasted sufficiently and has turned a golden brown.
Add the broth, bring to a boil, then cover and reduce to a simmer. Cook for 20 minutes, or until the rice is done. Add the spices and black beans and mix well. If adding pre-cooked shredded meat, add it with the spices and the beans and heat through.
Serve immediately with tortilla chips or any other sides of your choice. If desired, you can chop up a little cilantro and sprinkle a little over each plate.
Community content is available under
CC-BY-SA
unless otherwise noted.