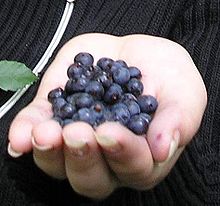 Bilberry is any of several species of low-growing shrubs in the genus Vaccinium, bearing edible berries. The species most often referred to is Vaccinium myrtillus, but there are several other closely related species.
Bilberries are found in very acidic, nutrient-poor soils throughout the temperate and subarctic regions of the world. They are closely related to North American wild and cultivated blueberries and huckleberries in the genus Vaccinium. One characteristic of bilberries is that they produce single or paired berries on the bush instead of clusters, as the blueberry does.
The fruit is smaller than that of the blueberry but with a fuller taste. Bilberries are darker in colour, and usually appear near black with a slight shade of purple. While the blueberry's fruit pulp is light green, the bilberry's is red or purple, heavily staining the fingers and lips of consumers eating the raw fruit. The red juice is used by European dentists to show children how to brush their teeth correctly, as any improperly brushed areas will be heavily stained.
Cultivation
Edit
Bilberries are extremely difficult to grow and are thus seldom cultivated. Fruits are mostly collected from wild plants growing on publicly accessible lands, notably Finland, Sweden, Norway, Iceland, Scotland, Wales, Ireland, parts of England, Alpine countries, Carpathian Mountains in Ukraine, Belarus, Romania, Bulgaria, Poland and northern parts of Turkey and Russia. Note that in Austria, Finland, Norway, Sweden and Switzerland, it is an everyman's right to collect bilberries, irrespective of land ownership, with the exception of private gardens. Bilberries can be picked by a berry-picking rake like lingonberries, but are more susceptible to damage. Bilberries are softer and juicier than blueberries, making them difficult to transport. Because of these factors, the bilberry is only available fresh in gourmet stores, where they can cost up to 25 Euro per pound. Frozen bilberries however are available all year round in most of Europe.
In Finland, bilberries are collected from forests. They are eaten fresh or can be made in different jams, and dishes. The famous one is Mustikkapiirakka, bilberry pie [2]
In Ireland, the fruit is known as fraughan, from the Irish fraochán, and is traditionally gathered on the last Sunday in July, known as Fraughan Sunday.
Bilberries were also collected at Lughnasadh in August, the first traditional harvest festival of the year, as celebrated by Gaelic people. The crop of bilberries was said to indicate how well the rest of the crops would fare in their harvests later in the year.
The fruits can be eaten fresh or made into jams, fools, juices or pies. In France and in Italy, they are used as a base for liqueurs and are a popular flavoring for sorbets and other desserts. In Brittany, they are often used as a flavoring for crêpes.
Community content is available under
CC-BY-SA
unless otherwise noted.