Serves: 6 - 8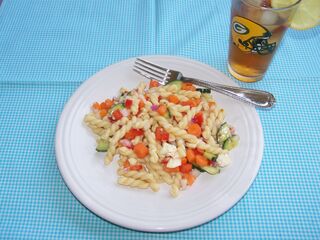 Cook Time: 12 minutes
Preparation Time: 15 - 20 minutes
Description
Edit
There is nothing fancy about this pasta salad. In fact, it is pretty straightforward in its utilization of common vegetables, simple spiral pasta and a bottle of reduced fat Italian vinaigrette dressing. Feel free to add (or subtract) any vegetables you wish and use any spiral noodle you want. You can also use whole wheat pasta, if your family enjoys it. Add lean cooked meats for additional protein (as a vegetarian alternative add cooked pulses which are also high in protein) and a small amount of cubed cheese, if desired.
Ingredients
Edit
1 lb. gemelli (or any spiral noodle)
1 large red pepper, in small dice
1 medium onion, finely chopped
1/2 a cucumber, quartered and sliced thinly
1/4 - 1/2 a small head cauliflower, in small dice
1/2 a small bag baby carrots, in small dice
1 large bottle reduced fat Italian vinaigrette dressing
Cubed chicken, ham or turkey (optional)
Cooked pulses (optional)
Cubed Cheddar cheese (optional)
Salt and freshly ground black pepper, to taste
Directions
Edit
In a large pot, cook the noodles in plenty of boiling water (do not salt the water) until al dente.
While the pasta is cooking, prepare the vegetables and meat (if using). When the noodles are done, drain in a colander and run under cold water for 5 - 10 minutes to stop the cooking process and cool the noodles thoroughly.
In a large (emphasis on LARGE) bowl, add the pasta, vegetables and meat (if using). Toss gently to mix everything up, then add about half the bottle of dressing to start. Inevitably, you will have to add more dressing, but adding half is a good starting point. Mix everything thoroughly to coat. Cover the bowl with plastic wrap and place in the refrigerator. About an hour before you serve it, mix it up again and check for dryness; add more dressing if necessary. (Alternatively cook the pasta in advance, let it cool and prepare the salad just before the dish is eaten. That way the vitamin content of the vegetables is preserved, also the flavour of the different vegetables will not blend, each still stands out on its own.)
If you will be using cheese, at this point it would be appropriate to cut it into small cubes. If you add the cheese to bowl and let it sit, it will get very slimy and be extremely unappetizing. Serve the cheese cubes in a small bowl and let everyone help themselves.
Serve with small pieces of toasted bread or dinner rolls. A light, but not fruity, white wine would be a good accompaniment but if you want to avoid serving alcohol, unsweetened ice tea is a good substitute.
Community content is available under
CC-BY-SA
unless otherwise noted.